Get tickets to the most in demand sales video event in Australia featuring Chris Schwager & Jason Howes!
August 17, October 12, November 23
SALES, AUTOMATION, & VIDEO 
FOR THE FIRST TIME IN YEARS, CHRIS SCHWAGER & JASON HOWES ARE COMING BACK TO LIVE EVENTS.
SEE THEM IN PERSON AT THE MOST IN DEMAND SALES, AUTOMATION AND VIDEO EVENT IN AUSTRALIA.
ENTERING 2023 DIFFERENTIATION MATTERS MORE THAN EVER.
THIS EVENT IS DESIGNED TO HELP YOU HIT PEAK PERFORMANCE IN SALES.
AUSTRALIAN BUSINESS OWNERS, SALES MANAGERS, ENTREPRENEURS, AMBITIOUS INDIVIDUALS, THIS IS FOR YOU.
AT THIS LIVE EVENT YOU WILL LEARN SALES,  AUTOMATION, DIFFERENTIATION, & VIDEO
Get ready to achieve peak performance in your business with video strategies to propel you throughout 2023 and beyond
Learn with Chris Schwager in person
Discover Cutting-Edge Techniques In 2023 To Create Irresistible Sales Videos That Win New Business Opportunities

Harness The Power Of Ai Technology To Craft Clear And Compelling Sales Messages In Minutes

Master The Art Of Persuasion: Know What To Say And How To Say It For Maximum Impact
Empower Your Sales Team With Sales Processes That Progress And Close More Business.
Break Through The Creative Chaos: With A Process For Streamlined Video Production
Engage With Like-Minded Entrepreneurs Over Drinks and nibbles, Fostering Valuable Connections
Unlock Exclusive Benefits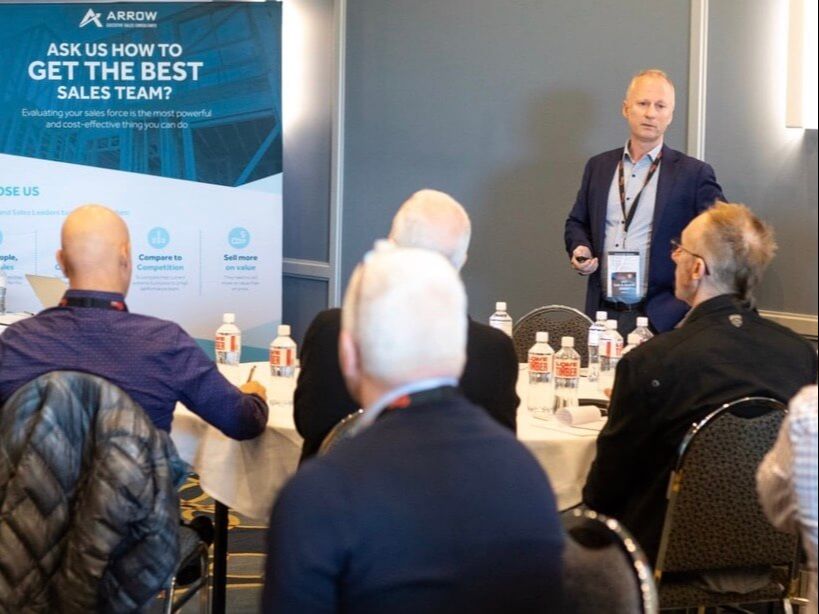 "Our whole sales team will be incorporating many of their recommendations into our strategy."
"... came away with really useful, practical advice that cuts through the noise and makes real sense."
"I liked how they presented the video resume... the information was easy to interpret"
"A great, energetic presentation from Chris, with lots of valuable insights."
FEATURING HEADLINE SPEAKER
CHRIS SCHWAGER
CHRIS IS THE REMARKABLE FORCE BEHIND RIDGE FILMS, AUSTRALIA'S LEADING DIY VIDEO PRODUCTION AGENCY. WITH 20+ YEARS OF EXPERIENCE AS A VIDEO DIRECTOR, SCRIPT WRITER, PRESENTER, PODCAST HOST, AND VIDEO COACH, HE HAS CATAPULTED RIDGE FILMS TO BECOME GOOGLE'S HIGHEST-RATED VIDEO COMPANY IN AUSTRALIA.
CHRIS IS DEDICATED TO EMPOWERING INDIVIDUALS AND BUSINESSES TO CREATE HIGH-QUALITY VIDEOS. HE ACHIEVES THIS BY PROVIDING THE FIRST PROFESSIONAL DIY DESKTOP VIDEO STUDIO, AFFORDABLE EQUIPMENT, EXPERT GUIDANCE, AND COMPREHENSIVE TRAINING SERVICES. HIS INNOVATIVE APPROACH HAS REVOLUTIONISED THE INDUSTRY, DEMOCRATISING VIDEO PRODUCTION AND RAISING THE STANDARD OF DIY VIDEO QUALITY.
WITH AN UNWAVERING PASSION AND COMMITMENT TO HIS CRAFT, CHRIS INSPIRES AND TRANSFORMS, LEAVING A LASTING IMPACT ON ALL WHO ENCOUNTER HIS GENIUS. PREPARE TO BE ENLIGHTENED AND EMPOWERED AS CHRIS SHARES HIS INVALUABLE INSIGHTS, PROPELLING YOU TOWARDS VIDEO PRODUCTION GREATNESS.
Exclusive Benefits:
By attending you get...
Lunch and canapés
Complimentary 15 minute sales development session (valued at $150)
Unlock access to 30-minute team video coaching (valued at $299)
Free professional video recording to use on social media (Usually $199)
25 ready-to-use video script templates, all to elevate your sales game.
Play our 1 minute trivia round to win movie tickets for 2 people
ALL THIS VALUE FOR ONLY
$29.95
Includes GST
GET YOUR TICKETS
JASON HOWES
REBUILDING SALES CULTURE ACROSS AUSTRALIA/NZ
Jason, the seasoned sales training expert, boasts 30+ years of experience in crafting high-performance sales teams for leading B2B companies. His down-to-earth approach leaves no sales aspect unaddressed, delivering exceptional outcomes.
With integrity and honesty as his guiding principles, he forges successful partnerships and boosts sales effectiveness through tailored strategies. Assessing, coaching, and executing, Jason raises the bar for your sales journey, maximizing your team's potential.
He stays ahead with cutting-edge technology, implementing award-winning sales and prospecting tools to elevate your sales to new heights. Beyond his professional prowess, Jason's love for sports, Aussie rules, and competitive squash, has honed his leadership skills and relentless drive to succeed.
As he takes the stage, be prepared to be inspired by his wealth of experience. Whether you're a seasoned professional or just starting, Jason's guidance will leave a lasting impact, propelling you towards unparalleled sales success.
BRISBANE
Thursday 17th
August, 2023 -
5:30pm - 7:30pm
Level 19/10 Eagle St, Brisbane City QLD 4000
SYDNEY
Thursday 12th
October, 2023 -
5:30pm - 7:30pm
Level 35, Tower One, 100 Barangaroo Ave, Barangaroo NSW 2000
MELBOURNE
Thursday 23rd
November, 2023 -
12:00pm - 1:30pm
Level 2/1 Southbank Blvd, Southbank VIC 3006
RESERVE YOUR TICKET TODAY
Limited Seats Available
WITH CHRIS SCHWAGER & JASON HOWES
BRISBANE AUGUST 17TH
SYDNEY OCTOBER 12TH
MELBOURNE NOVEMBER 23RD
12:00pm-1:30pm
REGISTER TODAY
SALES, AUTOMATION, AND VIDEO STRATEGIES DESIGNED 
TO TAKE ANY BUSINESS TO THE NEXT LEVEL.
TAKEAWAY #1
Dominate Your Marketing
Learn effective sales funnels to implement for any business online
Walk away with a complete sales strategy to get more leads, sales and clients
Use content driven sales strategies that builds your brand and awareness whilst attracting new customers
Overcome video obstacles like technical skills, performance challenges, or content creation uncertainties.
TAKEAWAY #2
Differentiation Matters
Learn From Chris Schwager and Jason Howes with their unmatched real world experience in predicting where the market is heading next
How to master your video creation goal no matter how insurmountable it may seem at the time.
​Build immense differentiation and be ready to take on any sales task with new found discipline, focus and drive.
TAKEAWAY #3
Business Expansion
Reduce your learning curve in scaling, sales and marketing. Plus get the processes that are working right now in this market
Simple and repeatable automations, nurture sequences and sales strategies
A look behind the curtain at some of the most effective video campaigns
How to use Personalised videos in your sales mix and why behavioural psychology is your missing link
RESERVE YOUR TICKET TODAY
Limited Seats Available
WITH CHRIS SCHWAGER & JASON HOWES
BRISBANE AUGUST 17TH
SYDNEY OCTOBER 12TH
MELBOURNE NOVEMBER 23RD
12:00pm-1:30pm
REGISTER TODAY
FOR ALL BUSINESS OWNERS, ENTREPRENEUR'S, SALES MANAGERS, COACHES OR MARKETERS 
BRISBANE AUGUST 17TH  -   SYDNEY OCTOBER 12TH  -  MELBOURNE NOVEMBER 23RD
FREQUENTLY ASKED
QUESTIONS
Q. Is There Parking At The Event?
There is parking available at each location as well as accessibility via public transport.
Q. Who Is This Event For?
This event is for coaches, sales managers, marketers, CEOs, financial planners, speakers, entrepreneurs, thought leaders, business men and women, small , medium and large businesses. Videographers or in-house producers already creating videos may not find it suitable.
Q. Can I Bring My Business Partner Or Spouse With Me?
Absolutely we recommend bringing your business partner or spouse with you, please get two tickets with different emails and names.
Q. What Time & Day Is The Event?
BRISBANE: Thursday 17th August, 2023 - Level 19/10 Eagle St, Brisbane City QLD
SYDNEY: Thursday 12th October, 2023 - L35, Tower One, 100 Barangaroo Ave, Barangaroo NSW

MELBOURNE: Thursday 23rd November, 2023 - Level 2/1 Southbank Blvd, Southbank VIC
12:00pm - 1:30pm
FOR CORPORATE ENQUIRIES
MEDIA ENQUIRIES
PRESS ENQUIRIES:
FOR ALL GENERAL ENQUIRIES
Ticket Refund Policy:
All ticket sales are final and non refundable. Should the event be delayed the event will be rescheduled and your ticket will be transferred to the rescheduled date. All dates, times and venues are subject to change. Time of event may reduce to a shorter day in the best interests of the audience and at the sole discretion of the organiser. Disclaimer: Results may vary and testimonials are not claimed to represent typical results. All testimonials are real. These results are meant as a showcase of what the best, most motivated and driven clients have done and should not be taken as average or typical results. Your results will vary and depend on many factors... including but not limited to your background, experience, and work ethic. All business entails risk as well as massive and consistent effort and action. If you're not willing to accept that, please do not attend.
RIDGE FILMS Privacy Statement:
By attending this event you consent that the organisation can use the following captured data for the stated purposes that are necessary to ensure the best experience for the participants as well as organisational purposes: Your name & email address: sending you your event tickets, notifying you about event updates, reminders, and post-event follow-up details and information Documentation of the live event in video and photographs: after-event debrief and analysis to enable improvements of future editions of this event, storage of the presented content in the archives to facilitate efficient resolution of any future claims or conflicts, and promotional materials for future events